The developers behind Sunshine Beach took a different approach to creating a project in Phuket. Instead of focusing on a specific feature or concept, T.H. Group, a joint venture between Hong Kong Safe Gold Group, Golden Invest Group and AUTA Group from Australia, wanted to curate a lifestyle. A place where dreams of luxury island living could be a reality.
In order to accomplish this lofty goal, the team behind Sunshine Beach needed the perfect combination of location, amenities and design along with options for both investors and those wanting a long-term home.
It was no easy feat, but T.H. Group was able to find a way to ensure Sunshine Beach offered the best lifestyle. And now the developer has the credentials to back up its claims. Sunshine Beach won Best Lifestyle Condotel/Residences at the Dot Property Southeast Asia Awards 2020. You probably want to know more about this award-winning lifestyle, so let's find out how you can live your best life in Phuket.
Read More: What can you expect from Phuket Rental returns?
A postcard worthy location
Location is the most important thing when it comes to real estate and Sunshine Beach boasts one of the best spots in all of Phuket. Situated along Bang Tao Beach, the beautiful blue waters of the Andaman Sea are literally at your doorstep. But there is a lot of cool stuff in this part of Phuket you should take note of.
For starters, the beautiful Layan Beach and Dream Beach Club are a short walk away. Should you be in the mood for a little shopping, both Boat Avenue and Porto De Phuket can be reached in less than ten minutes by car. Meanwhile, Laguna Phuket, and its endless array of entertainment activities are a stone's throw away. No matter what you want to do in life, it is easily accessible from Sunshine Beach.
The place to be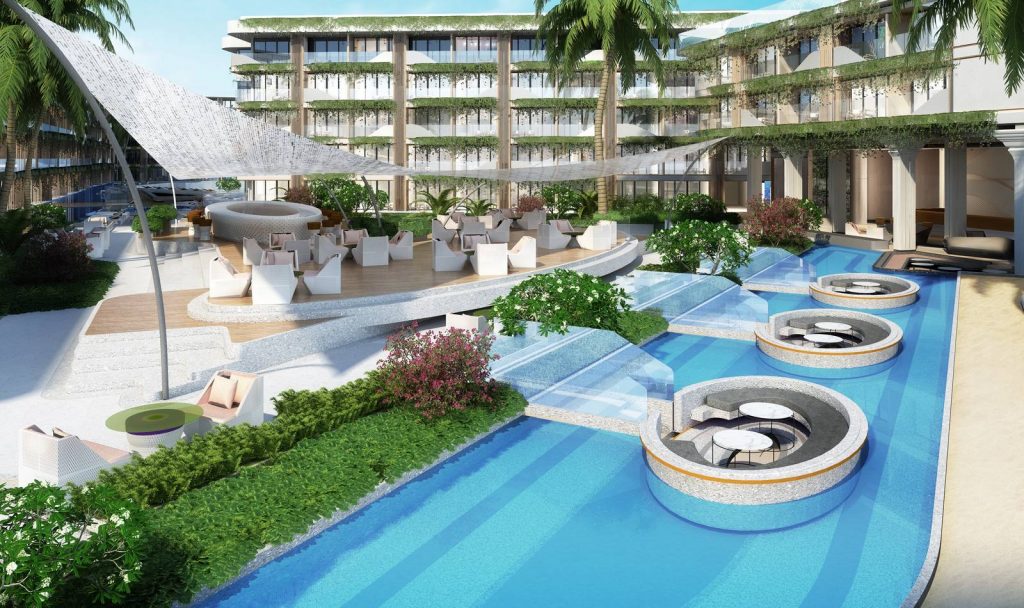 One of the great things about Sunshine Beach is the fact it has been equipped with a everything could possibly need to enjoy life. Most impressive of all is the staggering 2,500 square meter swimming pool which runs past every building in the development. Simply put, you'll never have to worry about the pool being crowded.
Another notable feature of Sunshine Beach is the Aquarium Restaurant which will offer one of the most unique dining experiences in Phuket. A great deal of care has gone into the design of the other amenities at Sunshine Beach to make sure they meet the exacting needs of even the most discerning visitors. Everything from the on-site spa to the fitness center will be of the highest quality.
A residence for everyone
Regardless of if you are an investor seeking outstanding yields and a holiday home to use each year or are searching for your own personal paradise in Phuket, Sunshine Beach has a residence for you. For those after the former, the hotel part of the development has been setup with your needs in mind.
The hotel residences have been thoughtfully designed to meet the requirements of modern travelers. What's more, they are backed by investment programs tailored to different goals. There are multiple programs to choose from so you can find one that works best for you.
On the other hand, the residential component of Sunshine Beach focuses on those who want to spend months or even the entire year in Phuket. The luxurious homes come equipped with everything daily life calls for, including modern kitchens and spacious living areas.
No matter your lifestyle, Sunshine Beach has a solution for you, and it is the only development in Phuket with that type of flexibility.
Live your best life at Sunshine Beach
Sunshine Beach won Best Lifestyle Condotel/Residences at the Dot Property Southeast Asia Awards 2020 because it is a place where unit owners can truly live the life they want. There are the world class amenities and beautiful designs that perfectly capture the upscale lifestyle. And of course, the magnificent location along the beach is an ideal backdrop.
However, it is the flexible ownership options that ensures no other development compares to Sunshine Beach. Owning a residence here isn't simply a dream come true. It is YOUR dream come true. And it doesn't get any better than living your best life on the beach in Phuket.
Find your dream residence in Phuket here