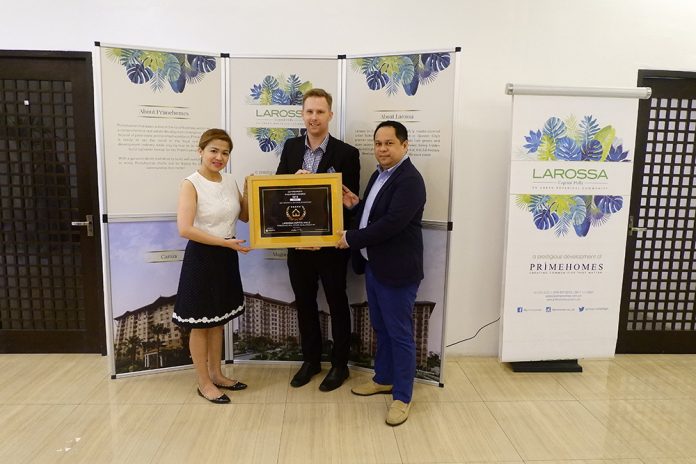 Larossa at Capitol Hills feels different. The expansive green space features century-old trees and lush vegetation that feels miles away from the city. Yet, the heart of QC is only minutes away where you'll find shopping, schools and everything else a person could possibly need.
"Being a botanical residential development is a unique feature that ensures Larossa at Capitol Hills stands out. Lots of buyers were surprised to see something like this still available in an urban area. And, of course, the affordability created even more demand," Vladimir A. Cordero, Primehomes' Marketing Group Head, states.
A look around and it is easy to see why Larossa at Capitol Hills won Best Residential Botanical Development at the Dot Property Philippines Awards 2018. The natural surroundings of Capitol Hills has not only been preserved but incorporated into the estate.
"We didn't want to tear the environment around the project down. Instead, we focused on incorporating it to ensure sustainability and protect the green spaces which residents can enjoy. The history of nature found in the trees of Larossa which have been around for decades, is a special highlight," Cordero points out.
He continues, "One of our main aims was to create a suburban area in an urban setting. The project is in the heart of QC and only a few kilometers from EDSA. The convenience of urban amenities such as UP Town Center is minutes away. However, the secluded location has the suburban vibe many people like."
Dot Property Philippines Country Manager Tanya Peralta-Yu and Dot Property Editor-in-Chief Cheyenne Hollis recently visited Larossa at Capitol Hills to hand Primehomes the award for Best Residential Botanical Development.
"Winning this award is a pat on the back for all the hard work of the people behind Primehomes. There were lots of challenges, but we were able to deliver on our promise to create something special. Winning this award confirms it was worth it," Cordero says.