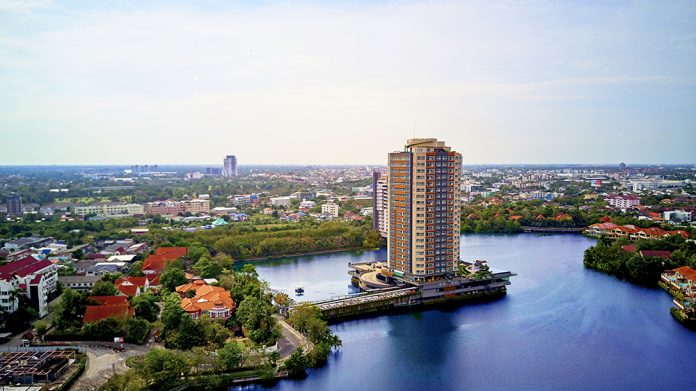 This article on Nichada Thani and how they are creating a family-focused living experience in Bangkok appears in the latest issue of Dot Property Magazine. Click here to read it.
The Nichada Thani community has grown in suburban Bangkok for more than 30 years now. Today, it spans nearly 400 acres with 50 sub-communities while retaining the charming qualities that first drew people to it all those years ago. Residents adore the high-quality housing options and convenient facilities, but it's the Nichada Thani lifestyle is what has attracted executive-level expats and Thais over the years.
Taking a stroll through the masterplanned, gated community allows you to experience the lifestyle firsthand. The tree-lined streets and walkways lead you to parks, community facilities, schools and a community church. All around are smiling families enjoying the peaceful surroundings as birds chirp in the background.
The dense spaces of Bangkok may be a constant flurry of activity, but time slows down once you enter Nichada Thani. And this is exactly what Nichada Group, the company behind the community, envisioned all those years ago. They always emphasized meticulous community planning that calls for at least 30 percent of the estate to be comprised of green areas with a centerpiece man-made lake serving as the signature feature.
"Nichada Thani is a passion project founded by my parents and partners over 30 years ago; stemming from my father's love for construction and my mother's love for management. Together, they've envisioned a carefree suburban environment enveloped with lush nature and low fences indicating entrustment in security, but also equipped with full functioning facilities right within the gates," Khun Nichada Changrew, CEO at Nichada Thani Group, details.
By understanding that families have different housing needs, Nichada Group carefully launched diverse residential styles throughout the community, the majority of which they have built and developed. Everything from condominiums to mansions with private pools can be found within the gates of Nichada Thani.
"We have a perfect size home for singles, single-parent families, nuclear families or extended families," Khun Nichada explains. "All homes share the same ideology; open floor plans with spacious areas in which owners or renters can enjoy the flexibility to redesign their own home functioning sections or the expansive open space already provided."
Of course, the comfortable homes, suburban neighborhood and rich natural environment don't tell the entire story of Nichada Thani. It is the people and service behind the community that fosters a lifestyle people have come to know and love for more than three decades.
The flourishing community of Nichada Thani
Suburban living is as much about the people as it is the space. The community is a place where you share memories and create moments with family and friends. For Nichada Thani, fostering this environment was incredibly important and the developer does this a number of different ways.
"Nichada Thani is renowned for the special events we organize for our residents. Before the emergence of COVID-19, we routinely held many heartwarming events where the whole community joined together. An example of this is Halloween, one of the biggest events at Nichada Thani. The whole community joined in on trick or treating with recreational activities for children," Khun Nichada details.
And that is just the tip of the iceberg. From organizing events and markets to keeping residents informed via a monthly newsletter, Nichada Thani is always looking for ways to keep everyone happy and engaged.
These efforts are supported by the expansive facilities available at Nichada Thani, none more notable than the International School Bangkok (ISB). The school actually moved from their original location in downtown Bangkok to the Changwattana area first. Understanding the need for nearby housing that appealed to families, Nichada Group arrived shortly thereafter starting with the 125-rai lake and approximately 100-rai plot of land.
Over the years the school and residential communities have been joined by a number of retail spaces and fitness and recreation facilities which has only added to the sense of community at Nichada Thani. There are restaurants and coffee shops where time can be spent conversating with friends. Daily life is made easy thanks to the international supermarket, pharmacy and other shops found around the community.
A health clinic and dentist are here as well along with spas and salons. Whatever you need is seemingly right around the corner. And when you do need to leave, it's easy to get to anywhere else in Bangkok. Nichada Thani boasts convenient access to the Sri Rat expressway and BTS. Meanwhile, a wide range of shopping, dining and entertainment options, including Central Plaza Changwattana, can be found a few minutes away.
What is truly unique about Nichada Thani is that the management team lives in the development as well. They are not simply talking about community and lifestyle; they are there every day experiencing it.
"Our passion is to provide service to fulfill every aspect of our residents' daily needs. We believe in our own community because we also live here and have tested out any products and services," Khun Nichada notes. "We put our heart and soul into all our projects and that is most important to us because if we want to offer an optimal Nichada Thani lifestyle to our residents, we need to test and live it with our own lifestyle and consistently improve upon it whenever we receive any feedback."
An award-winning lifestyle
The effort and dedication into cultivating this lifestyle were rewarded at the Dot Property Southeast Asia Awards 2020. Nichada Group was named Best Lifestyle Developer (Housing), an honor validating its vision to focus to create a family-focused living experience in Bangkok.
"We are deeply honored to be recognized as the Best Lifestyle Developer (Housing). Amongst all of the prestigious awards presented on the night, this particular one really brings out happy tears from our team," Khun Nichada proclaims. "Nichada Group's mission since conception has always been to build a 'lifestyle' or a 'way of life' for our residents rather than just producing structures for sale or rent. It is also especially humbling to receive this award amongst other prominent developments and developers. This truly inspires our team to strive for even greater heights with greater standards."
Khun Nichada believes success at the Dot Property Southeast Asia Awards 2020 wouldn't have been possible without family. It is what inspired Khun Nichada's parents when they first launched the community and what motivates the entire team to this day.
"With family-oriented influence, my parents first founded and named Nichada Thani after me. The name Nichada means an independent girl with unique characters; in many ways Nichada Thani stayed true to its name," Khun Nichada states. "The Nichada Group is ultimately a family business in which our teams and residents at Nichada Thani are like family members whom we strive to share this balanced, peaceful and family-oriented way of life."
She concludes, "As we pave our own roads as an independent and unique community, we would love to invite readers to join our family and experience 'The Nichada Lifestyle'."
For more information on this family-focused living experience in Bangkok, please contact
Nichada Thani
The Expatriate Town of Thailand
Phone: +66 2 832 0088
Email: [email protected]
Facebook: NichadaThainipage
Instagram: NichadaThani
Line: @Nichadareservation