Families can have a difficult time finding a place to live. That's because they have more factors to consider. Schools, activities and the creation of family time need to be weighted against more traditional interests such as proximity to work. There are very few places in Metro Manila where all of these line up.
The key word in that sentence is few. You can find a handful of places that cater to the unique needs of families. But for us, San Juan is the ideal place to live for families. Don't take our word for it, however. Here are six reasons why.
1) The center of Metro Manila
We don't want the North vs. South debate to kick off all over again. But in terms of location, San Juan is the center of Metro Manila. At least that is what the National Mapping and Resource Information Authority found when it revealed San Juan to be the geometric midpoint of the National Capital Region.
Being in the center of the metro adds a certain level of convenience for families, especially those ones where both parents work. The majority of Metro Manila's business districts are within reach. Ortigas Center is a ten-minute drive away by car if you take Shaw Avenue.
Multiple streets connect San Juan to EDSA where Makati, a 20-minute drive away, and Quezon City, 30-minutes by car, are easily accessible. This means it is easy to get to work, no matter where work may be.
2) Education hub
Several of the Philippines' top educational institutions can be found either in San Juan or close by. Xavier School, Immaculate Concepcion Academy, Jubilee Christian Academy, La Salle Greenhills, Saint Pedro Poveda College and Fountain International School are just a few located in the city.
Several early childhood education centers can also be found here. These include International Center for Beginning Beginners, MindChamps International Preschool and Cambridge Preschool Greenhills. The wealth of choices in such a small location ensures parents can find the best fit for their child without needing to be worried about transportation.
3) Shopping destination
You're most likely aware that San Juan is home to countless shopping centers. Greenhills Shopping Center remains among the metro's most popular places while Virra Mall, Promenade, Power Plant Mall, SM Megamall, Robinsons Galleria, Robinsons Magnolia and Shangri-La Plaza are all close by. Whether you need to pick up a last minute item on the way home from work, want to get the kids out of the house for a bit on a rainy day or are looking to do a little window shopping, the options are plentiful in San Juan.
4) Green spaces
Spending time outdoors is one of the biggest challenges facing urbanites. Residing in an area that has a few different green spaces can provide much needed respite from city life. And for children, being outdoors lets their imagination run wild while also helping them expend some energy by…well…actually running wild.
There are a number of parks and green spaces in San Juan for families to enjoy. One of Metro Manila's newest parks, Jackson Park in Greenhills West, opened late last year. There is a playground and open areas while 50-year old ficus trees provide shade.
Those wanting something a bit more private can opt for membership at Wack Wack Golf & Country Club. Home to one of the country's oldest golf courses, members of the club can also use the pool, fitness center and a nature trail designed for jogging and walking.
5) A smart place to live
One day in the future, San Juan could be a fully formed "Smart City". A private plan titled "Reshaping San Juan City: Planning Toward a Future of Green Consciousness" was announced a few years ago to create a Smart City that would be more liveable and less vulnerable to natural disasters. The plan has five focus areas: land use; zoning; mobility; climate change adaptation and mitigation; and disaster responsiveness.
The plans call for the creation of dedicated bike lanes and elevated walkways that connect the buildings and streets to LRT stations. Additionally, emphasis was placed on flood mitigating and adaptation measures along the San Juan River to prevent future flooding. The company behind the plan, Palafox Associates, has claimed they are both practical and viable and continues work to get it implemented.
6) Residences designed for family life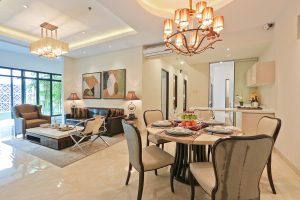 Families require carefully designed living spaces that cater to their needs. These include special amenities and large units that provide ample room to grow. The award-winning Fortune Hill from Prestige by Filinvest is one such development. With generous unit sizes starting at 99 square meters, these residences provide a secure and spacious sanctuary that is the perfect place to nurture a family and lead a balanced life.
The condominium features an architectural design that is reflective of its Asian influence. Each unit is created with an abundance of refined elements such as marble countertops, natural lighting, cross-ventilation and tiled balconies with panoramic views of the Makati skyline and Wack-Wack neighborhood.
Parents can rest easy knowing there is a shuttle service that stops at nearby schools. Indoor and outdoor play areas at Fortune Hill allow for family time without having to deal with the hassle of going out. All of this is accentuated by the low-density living experience that provides the utmost peace and privacy.
Click here to learn more about Fortune Hill