It seems like a lot of people are searching for a condo for sale in Quezon City. However, there are still plenty of others who may not understand what makes the city so special. With that in mind, here are five of our favorite reasons that you'll love living in QC.
1) Balance work and life
No other city in Metro Manila offers the same level of convenience when it comes to both work and life. Living in QC makes it easy for most people to get to work or meet up with friends and family. From Novaliches in the north to Cubao in the south, QC is home to countless offices. But living here isn't all about work.
Take a stroll down Tomas Morato Avenue and you will find a restaurant row to rival any others in the Metro. You might even see a few celebrities taking a break from shooting at the nearby studios to grab a bite to eat. And throughout QC, countless shopping malls and parks can be found. All of this makes it easy to achieve work/life balance.
2) Improving public transport
While the much-anticipated opening of the MRT-7 line was recently delayed, it is still coming sooner rather than later. When the line does begin operations, it will be possible to quickly travel from Novaliches to Triangle Park and several other QC business areas. Other infrastructure projects in the work for QC include Skyway Stage 3 and the Metro Manila Subway.
3) Hub of innovation
QC is building a reputation as being an innovation hub. The TechnoHub, operated in part by UP, is the first full-scale, campus-based science and technology park in the country. The project is bringing a significant number of new people to QC including expats working in start-up companies and BPO employees.
4) Lifestyle for everyone
For decades, QC has been known as a university town. That's because three of the major schools in the Philippines, University of the Philippines, Ateneo de Manila University, and Miriam College, are all located in here. And to this day, it remains a popular area with students.
But it is also a desirable place among young professionals who enjoy the lifestyle QC has to offer. And, of course, digital nomads and freelancers also flock to QC thanks to its unique culture.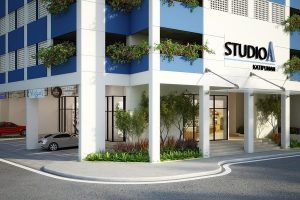 One QC residential development that has taken this into consideration is Studio A. Located on the corner of Xavierville Avenue and Esteban Abada Street, the condo is close to a number of top schools and universities as well as the LRT-2 line ensuring it is popular with students, young professionals and startup families.
What makes Studio A truly standout are the value added services which include Wi-Fi in amenity areas and a dedicated taxi stop. Several paid services, such as house cleaning and home repairs, are also available quickly upon request. These, coupled with amenities conducive to learning and recreation, provide a QC living experience suitable to just about anyone.
5) Amazing developments
These days, people are finding their ideal condo for sale in Quezon City at some outstanding new developments. One of the best is Activa Flex from Filinvest The project is situated in Cubao, one of Quezon City's busiest districts. The centrally-located Activa Flex connects to the North and South via EDSA and is also close to MRT and LRT lines.
Not only is there a selection of amenities found inside Activa Flex, but the residential project is part of a large mixed-use development that combines all aspects of life in one holistic environment. In addition to the residential tower, there is also an office tower, mall and hotel on-site making it a place where anyone can live, work and play.
Click here for more information
Find your new condo for sale in Quezon City
Another new condo for sale in Quezon City is Vinia Residences. The 25-storey mixed-use condominium offers flexible units that can fit the needs of any lifestyle. In addition to a full range of facilities, natural elements can be found all around the development. These features include pocket gardens, garden walls and a sky park.
Vinia Residences is situated in a convenient location that ensures a great work/life balance. It is situated near the lifestyle belt of QC that is only a few steps away from the North Avenue MRT Station along EDSA.
Click here for more information