Developed by
About Omni Gardens
There is a certain charm about living in a garden, of romantic and delightful vistas that frame our daily lives. A garden must breathe and be allowed to grow and expand, it reflects the importance of space in how we live our lives. Our homes reflect our aspirations and values. Omni Gardens provide an unrivaled luxury with the kind of space that each of its 58 units provides. This 41-storey garden tower is a modern classic that stands out in the very heart of Chinatown. Located along Ongpin Street, Omni Gardens is a meticulous composition of stone and greenery that reflects the materiality and values of its surrounding community. It stands out as an oasis in the hustle and bustle of the city with a verdant roof orchard, luxurious amenities, and living green walls that provide its residents with an unbroken link with nature in their daily lives.

The interiors of each 345 and 329 square meter units are an exquisite blend of lighting, composition, and finishing. They provide a unique backdrop for elegant lives that understand the value of coming home to a peaceful sanctuary a few blocks away from where they work. Each units has an unobstructed 180-degree view of the city. The South Bay Mansions look over the Pasig River into Manilay Bay and its world-famous sunsets. The North Plaza Mansions look over the San Lorenzo Ruiz Basilica and Plaza with a centuries old unobstructed view of the oldest Chinatown int he world.

Plazas are a vital part of Philippine life. Our cities are dotted with them and they form the center around which our communities grow. Binondo remains as one of the best placed to live in the country. It is the heart of commerce and trading and continues to be the central hub for the Filipino-Chinese community. For generations, countless immigrants have grown up in the streets of Binondo and called it home. Restaurants, bars, cafes, and shops that sell everything from groceries to jewelry are all around the building. Building the most pretigious address in this community means creating a space that respects this heritage and connects with the aspirations of the community. The residents of Omni Gardens will have a unique home that transistions their days fromt he hustle and bustle of the city into a series of warm and welcoming spaces that together make up a unique beacon and oasis in the heart of the city.

The architecture of Omni Gardens puts a new icon in the sky and offers impeccable residences expertly designed to exude ultra-luxury.

Each unit will be a four bedroom Family Suite with a spacious open plan layout. Each unit will be more than 300sqm ensuring only the most exclusive neighborhood.
Omni Gardens is a condo project developed by 62 Ongpin Manila Realty Inc., Units range from 3 bedroom to 3 bedroom. Omni Gardens at Binondo, Manila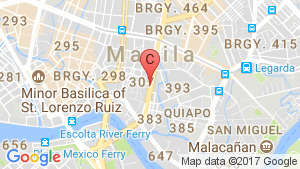 Other projects nearby
There are a number of other Condo developments located in the area of Omni Gardens including:
Room types / prices
There are 1 condos for sale in Omni Gardens available from ₱3,900,000
3 Bedrooms
147 m2
For sale: ₱ 3,900,000 (1 unit)
no units for rent