Featured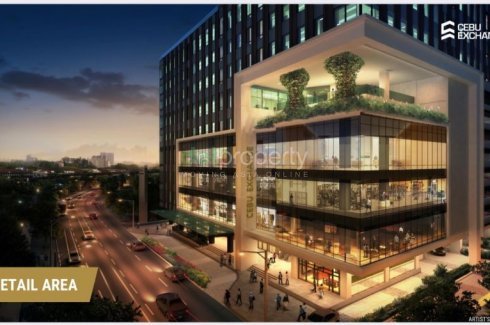 Listing ID: Cebu Exchange RETIAL unit for sale 01J
Commercial for sale in Cebu City, Cebu
Cebu Exchange
The biggest single tower business ecosystem in Southern Philippines & the largest green office tower in the country with multiple green certifications on the way this highly commended office development has won multiple awards guaranteeing only the best for its occupants, driven by comfort and functionality the beauty of the Cebu Exchange lies on its complete business ecosystem (office/retail/green open spaces/services) mindfully designed to improve work-life balance by having everyday needs just a few floors away and part of the service that Cebu Exchange offers is the consolidated leasing solutions, a simple and hassle-free investment, so you can invest in a smaller more cost-effective cut up units leased out as single larger office space.
An office development where business is in harmony the Cebu Exchange has all the qualities of a promising investment, bringing the most profitable returns and the most effective work experience.
Cebu Exchange offers prospective cash yields of 6% from recurring rental income
As the biggest green office tower in the Philippines, Cebu Exchange can benefit locators with operating cost, resource efficiency, energy savings, improved working conditions, and increased property value/rental income.
All these is made possible through a joint venture between Arthaland the foremost green developer recognized for its superior design, high quality and focused on sustainability and innovation and Arch Capital a real estate focused alternative investments manager with an asian owned and managed platform focusing an opportunistic value ad and core plus investment strategies across Southeast Asia.
Unlock great capacity for growth, invest in the Cebu Exchange, a masterpiece of sustainable office development.
Arthaland,
The foremost green developer in the Philippines recognized by both local and global organizations for its superior design, high quality, focused on sustainability and innovation.
As one of the worlds fastest growing economies, the Philippines presents many reasons for you to take advantage of its booming office market.
Introducing Consolidated Leasing Solutions by Arthaland
An easy and hassle free investment and leasing service for our buyers.
Through the CLS a single unit can be purchased, consolidated and made part of an entire floor or larger space on selected levels. The advantages to an owner or lessors participation in the CLS service would be;
1.Your unit will be combined with the other units to form a larger space, serving the requirements of premium tenants such as Multinationals and Business Process Outsourcing Office Locators.
2. These tenants generally pay higher rental rates and have long terms leases averaging upwards of 5 years. With the CLS both unit owners and tenants will deal with only one professional entity. Arthaland will be the point person between multiple owners and large tenants. Arthaland will negotiate and administer the leased contract, collect lease payments, distribute rental proceeds manage common areas and tenant concerns through Emera Property Management, a wholly owned subsidiary of Arthaland, overall making it worry free experience.
Consolidated Leasing Solutions will help you realize the benefits of investing in world class sustainable developments by Arthaland.
Arthaland Building Sustainable Legacies
For more details, Showroom Presentation/Viewing please contact:
JOHN JASON TAMOSO
Arthaland Corporation
Senior Sales Associate
+63 977 066 7585
+63 947 373 8034
[email protected]
8,880 m2 Land area

Gro

Floors
Air Conditioning
Concierge
Garden
Parking
Security