Shaw Boulevard, Mandaluyong, Metro Manila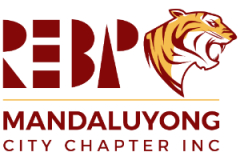 REBAP Mandaluyong City Chapter, Inc. (RMCCI) is the professional business organization of licensed real estate brokers and accredited salespersons based in Mandaluyong City. We hold ourselves to the highest levels of truly professional and ethical standards of real estate practice.
Our real estate professionals handle general brokerage, project selling as well as leasing and specialized property sales.
For more information about REBAP Mandaluyong City Chapter, Inc., please visit our website: rebapmanda.com