Featured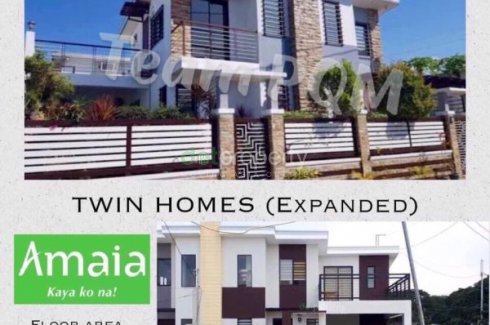 Listing ID: Amaia Pangasinan TWIN HOME
3 Bedroom House for sale in Amaia Scapes Urdaneta, Urdaneta, Pangasinan
Amaia Scapes Urdaneta

Welcome home to Amaia Scapes Urdaneta, Amaia's next development in the Ilocos region. It is located in Urdaneta City, home of the biggest fruit, vegetable and livestock market in the North.

Amaia Scapes Urdaneta sprawls naturally in the plains of Pangasinan. Its thoughtfully designed house models are complemented by a complete array of amenities suitable for every family's needs

At the rear of the development is a natural mango orchard where mango trees live untouched and bear fruit when in season.

Land area: 14.8 hectares / 148,000 sqm
Terrain: Relatively flat
Units: 849 house-and-lot units
Location: Urdaneta-Calasiao Road, Urdaneta City, Pangasinan

Sample Computation

Twin Home
Floor area 47sqm
Lot Area 95sqm
2-3 bedrooms
1-2 toilet and bathroom
1 carport
Bare Finish
Provision for house expansion

Total Contract Price 2,762,354.91 pesos

First to pay 20,000 pesos reservation fee (Deducted in DP) PROMO!

After

10% Downpayment payable to 24months @ 0% interest for as low as 10,676.48 per month. PROMO!

After

90% Balance payable thru Bank Financing:

5years: 47k monthly amort
10years: 27k monthly amort.
15years: 20k monthly amort.
20years: 17k monthly amort.

Amaia Scapes Urdaneta Pangasinan Promo extended until April 2021.

#AmaiaScapesPangasinan #Amaia #HomeGoals #pangasinanproperty #TeamPQM #InstallmentOnly #houseandlot #employed #AyalaBrand #AmaiaHomes #ofw #PropertyBump
About Amaia Scapes Urdaneta
Welcome home to Amaia Scapes Urdaneta, Amaia's next development in the Ilocos region. It is located in Urdaneta City, home of the biggest fruit, vegetable and livestock market in the North.
Amaia Scapes Urdaneta sprawls naturally in the plains of Pangasinan. Its thoughtfully designed house models are complemented by a complete array of amenities suitable for every family's needs
At the rear of the development is a natural mango orchard where mango trees live untouched...
View more detail on Amaia Scapes Urdaneta
3

Beds

1

Bath
95 m2Usable area

47S

Floors
Parking
Security
Swimming Pool