Featured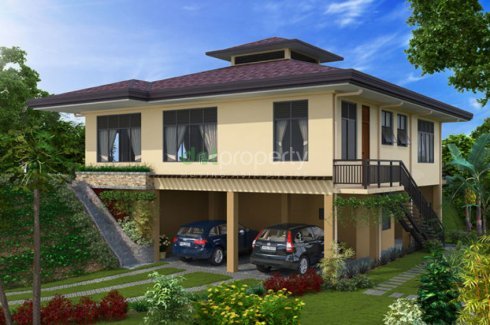 3 Bedroom House for sale in Pondol, Cebu
WELCOME TO AMONSAGANA a Retirement Village
"AMON" and "SAGANA", two beautiful words in the Filipino dialect of Illongo and Cebuano, comes together to form the name of a new and exciting premium real estate development in Cebu.
AMONSAGANA, meaning "OUR ABUNDANCE",offers a refreshing new perspective on an abundant lifestyle that will be the envy of others. Dragonflies symbolize agility, power, prosperity, purity, harmony, happiness and selfrealization. They have a deep connection with nature and dwell only in natural habitats with abundant resources. AMONSAGANA is a natural haven for the amazing dragonfly, hence its pride of place in the logo.
A Nature-Centric HAVEN:
AMONSAGANA is nestled in the Mandayao Hills of Balamban, a picturesque and peaceful township just 45 kilometers west of Cebu City. Located at an average altitude of 200 meters above mean sea level. AMONSAGANA enjoys a unique combination of natural beauty, amazing 360 degrees views and the perfect setting for the outdoors. The views of the South China Sea and the Central Cebu mountain range are as stunning as they are calming in a peaceful haven where the natural environment and the community are perfect balance.
AMONSAGANA Covering an area of 32 hectares, AMONSAGANA will be developed in four phases, each being named to honor and celebrate one of the four elements. Each phase is designed as a private enclave of homes, connected yet distinct from one another. More than 40 percent of the land is dedicated to roads, parks, gardens, water catchment, organic farm, nature reserve and communal amenities. The infrastructure includes water, electricity, telephone, cable television and data supply lines as well as gated access and perimeter security. Eco-friendly concrete roads are built to maintain the hilly terrain yet designed with safety as a priority.
PROXIMITY TO IMPORTANT AMENITIES AND FACILITIES DESPITE RURAL LOCATION 90 minutes to Mactan International Airport
30 minutes to Toledo Seaport
10 minutes to the provincial hospital
10 minutes to fishing villages, beach resorts, churches and chapels, shopping malls, markets, restaurants, food stalls and others.
THE MOONSTONE MODEL:
The Moonstone expresses the soothing and mysterious energy of the moon, water and connections with the inner worlds. Feminine in its energies, the nourishing Moonstone is a bringer of calm, peace and balance to the one who owns it.
The Moonstone is a spectacular house with the living, dining, bedrooms and main kitchen artfully planned around a central indoor courtyard with skylight for natural diffused sunlight for the interiors. The indoor courtyard also serves as an extension of the living room for an enlarged entertainment area when needed.
HOUSE DETAILS:
2- Storey House
Total Lot Area: 450 sqm/4,842square feet
Total Floor Area: 258 sqm/2,776 square feet
Upper Ground Floor Plan: 175 sqm/1,883 square feet
Lower Ground Floor Plan: 83 sqm/893 square feet
Master's Bedroom + Walk in closet + Balcony
Bedroom 2 with attached Toilet and Bath
1- Maids Room with Toilet and Bath
Living and Dining Areas
Wet and Dry Kitchens
Indoor Courtyard
Laundry Area
2- Car garage
Organic Garden
Price: 14,800,000
20% Down payment: 2,960,000
Reservation Fee: 100,000
Monthly Equity: 238,333 in 12 months
Loanable Amount: 11,840,000 (BANK or IN-HOUSE FINANCING)
We can help you process your housing loan, MECO/VECO & WATER Connections..
Figures above are for illustration purposes only. Actual monthly installment and effective interest rate shall be indicated in your loan documents..
DISCLAIMER: The project or property posted above is for announcement purposes only and may be subject to change from time to time
3

Beds

3

Baths
450 m2 Land area

258

Floors
CCTV
Garden
Parking
Playground
Security
Swimming Pool